Osteochondral Autograft Transplantation System (OATS) of the Ankle | OATS Procedure
Dr. Kennedy has performed more OATS procedures and published more studies on them than anyone in the USA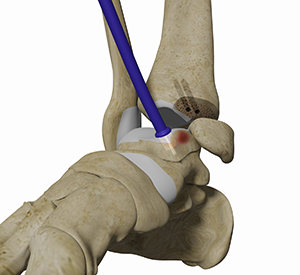 What is OATS of the Ankle?
OATS of the ankle is a surgical procedure to treat Osteochondral Lesions of the Talus (OCL) or Osteochondritis Dissecans (OCD). It involves the transfer of healthy cartilage to replace the damaged cartilage and restore the normal function of the foot. The cartilage can be taken from your ankle joint (autograft) for smaller defects. An allograft (graft from a donor) is considered for large defects. During an OATS procedure, multiple, tiny plugs of healthy bone and cartilage are transferred and laid in a mosaic pattern, hence, the procedure is also known as mosaicplasty.
What are Osteochondral Lesions (OCL)?
OCL's are defects of the bone and cartilage in a joint usually caused by trauma or repeat ankle sprains.
Indications for OATS Procedure
When your osteochondral lesion is greater than 1cm in diameter.
OATS Procedure
The surgery is performed under general anesthesia. It involves the following steps:
An incision is made at the ankle joint. A few ligaments may be incised to expose the joint.
Your surgeon performs debridement of the chondral surface to remove damaged cartilage. Some damaged bone may also be removed. Care is taken to prevent damage to healthy cartilage.
An autograft is procured from a non-articulating portion of your knee and is inserted at the damaged site. Great cone is needed to ensure perfect alignment.
The tibial osteotomy is fixed with titanium screws to allow post-operative MRI.
Stem cells are used to augment healing.
Outcome of OATS Procedure
Patients typically experience reduced pain with improvement in the movement and functioning of the foot. Complications are rare.
Dr. Kennedy has seen over a 90% success rate.
Dr. Kennedy's Articles
Current concepts in the diagnosis and treatment of osteochondral lesions of the ankle
Establishing proof of concept: Platelet-rich plasma and bone marrow aspirate concentrate may improve cartilage repair following surgical treatment for osteochondral lesions of the talus
Autologous osteochondral transplantation for osteochondral lesions of the talus: high rate of return to play in the athletic population
The Treatment of Osteochondral Lesions of the Talus with Autologous Osteochondral Transplantation and Bone Marrow Aspirate Concentrate: Surgical Technique
Autologous osteochondral transplantation for osteochondral lesions of the talus in an athletic population
Clinical and MRI Donor Site Outcomes Following Autologous Osteochondral Transplantation for Talar Osteochondral Lesions
Osteochondral lesions of the talus in the athlete: up to date review
Double-Plug Autologous Osteochondral Transplantation Shows Equal Functional Outcomes Compared With Single-Plug Procedures in Lesions of the Talar Dome: A Minimum 5-Year Clinical Follow-up
Magnetic Resonance Imaging Evidence of Postoperative Cyst Formation Does Not Appear to Affect Clinical Outcomes After Autologous Osteochondral Transplantation of the Talus
Effect of the Containment Type on Clinical Outcomes in Osteochondral Lesions of the Talus Treated With Autologous Osteochondral Transplantation
Knee-to-Talus Donor-Site Morbidity Following Autologous Osteochondral Transplantation: A Meta-Analysis with Best-case and Worst-case Analysis
Anterolateral tibial osteotomy for accessing osteochondral lesions of the talus in autologous osteochondral transplantation: functional and t2 MRI analysis
Autologous Osteochondral Transplantation for Osteochondral Lesions of the Talus
Good clinical and functional outcomes at mid-term following autologous osteochondral transplantation for osteochondral lesions of the talus
We also perform the following Osteochondral Lesion procedures: