Tenex Procedure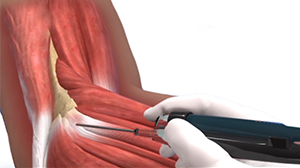 Dr. Kennedy performs Tenex procedures in the office setting for the treatment of Achilles tendonitis and other tendinopathies.
This minimally invasive technology utilizes ultrasonic frequencies to remove scar tissue around a tendon without damaging the surrounding tissues.
The procedure only requires a 3mm incision under local anesthetic with no need for stitches.
Thus, patient recovery is faster, at an average of 4 to 6 weeks.