Platelet Rich Plasma (PRP)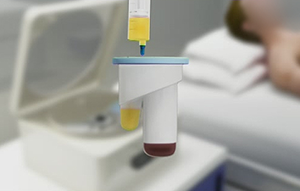 PRP is a product of whole blood. Typically, the patient's blood is drawn in the office and is spun on a centrifuge while the patient waits for 10-15 minutes. Once the blood is spun down, platelets are preserved. Platelets contain alpha granules that contain growth factors and other biologic mediators. These can be used to augment biologic healing when injected in the appropriate area, usually under ultrasound guidance in the office.
PRP has been used to help tendon conditions, soft tissue conditions, cartilage injury as well as bone healing. The basic science data confirms that PRP can act as an anti-inflammatory mediator. It also has anabolic properties augmenting healing in areas that are challenged typically. The use of the appropriate PRP machine is important. Many machines are unable to differentiate neutrophil quantity in the final product. Neutrophils are white blood cells and have been implicated in helping chronic conditions and may be responsible for attracting and activating local stem cells in creating what is known as a secretome.
Not all patients produce equal PRP, and many patients produce variable amounts depending on time of day, exercise and food consumption. We advise patients on what type of PRP is best suited to their condition and because we have access to state-of-the-art machines, we are able to prepare PRP 'a la carte' for each patient.
In our practice PRP has shown to be effective in treating the following conditions:
Tendinitis tendinopathy
Pathologies involving the Achilles, Posterior tibial tendon, Anterior tibial tendon and Peroneal tendon.
It has been shown that PRP upregulates a gene within the tendon to produce tenocytes or tendon cells. This is displayed in clinical outcomes that accelerate tendon healing, with less scar tissue and increased blood flow.
Bony conditions
Treats conditions that involve slow bone healing, stress fractures and stress reactions
PRP augments bone healing by providing growth factors as part of the TGF-beta superfamily that induces endochondral bone healing. PRP is often used as part of a multi-sphered approach to treat these conditions
Cartilage injury
Osteochondral defects, osteochondritis dissecans, osteoarthritis
PRP acts as a potent anti-inflammatory reducing intra-articular cytokines as well as increasing collagen production. It has been shown in clinical trials to help fill in small cartilage defects as well as protect existing cartilage.
Level 1 evidence now exists for the use of PRP in knee arthritis, where it facilitates improved clinical outcomes for up to two years following injection.
It is important to remember that PRP will not grow a new joint. Additionally, claims that PRP may reverse osteoarthritis are unsubstantiated and misleading. PRP will provide a biologic milieu that enhance the chondrocyte cell micro environment and will provide lasting symptomatic relief in many joints.
Muscle injury
PRP acts by promoting myocyte cell production and inhibiting interleukin-1, the bodies most potent inflammatory cell which is stimulated in abundance after a soft tissue injury. As a result, PRP can accelerate the time to return to sports in many soft tissue injuries
Calf strains and tears, as well as hamstring strains and tears have all been shown to improve when PRP is used.
ARTICLES BY DR KS TEAM
Seow D, Shimozono Y, Tengku Yusof TNB, Yasui Y, Massey A, Kennedy JG. Platelet-Rich Plasma Injection for the Treatment of Hamstring Injuries: A Systematic Review and Meta-analysis With Best-Worst Case Analysis. Am J Sports Med. 2020;363546520916729. doi:10.1177/0363546520916729
Gianakos A, Zambrana L, Savage-Elliott I, Lane JM, Kennedy JG. Platelet-Rich Plasma in the Animal Long-Bone Model: An Analysis of Basic Science Evidence. Orthopedics. 2015;38(12):e1079-e1090. doi:10.3928/01477447-20151120-04
Yasui Y, Ross AW, Kennedy JG. Platelet-Rich Plasma and Concentrated Bone Marrow Aspirate in Surgical Treatment for Osteochondral Lesions of the Talus. Foot Ankle Clin. 2016;21(4):869-884. doi:10.1016/j.fcl.2016.07.010
Hurley ET, Shimozono Y, Hannon CP, Smyth NA, Murawski CD, Kennedy JG. Platelet-Rich Plasma Versus Corticosteroids for Plantar Fasciitis: A Systematic Review of Randomized Controlled Trials. Orthop J Sports Med. 2020;8(4):2325967120915704. Published 2020 Apr 27. doi:10.1177/2325967120915704
Fice MP, Miller JC, Christian R, et al. The Role of Platelet-Rich Plasma in Cartilage Pathology: An Updated Systematic Review of the Basic Science Evidence. Arthroscopy. 2019;35(3):961-976.e3. doi:10.1016/j.arthro.2018.10.125
Baksh N, Hannon CP, Murawski CD, Smyth NA, Kennedy JG. Platelet-rich plasma in tendon models: a systematic review of basic science literature. Arthroscopy. 2013;29(3):596-607. doi:10.1016/j.arthro.2012.10.025
Smyth NA, Murawski CD, Fortier LA, Cole BJ, Kennedy JG. Platelet-rich plasma in the pathologic processes of cartilage: review of basic science evidence. Arthroscopy. 2013;29(8):1399-1409. doi:10.1016/j.arthro.2013.03.004
Smyth NA, Haleem AM, Murawski CD, Do HT, Deland JT, Kennedy JG. The effect of platelet-rich plasma on autologous osteochondral transplantation: an in vivo rabbit model. J Bone Joint Surg Am. 2013;95(24):2185-2193. doi:10.2106/JBJS.L.01497
Boakye LA, Ross KA, Pinski JM, et al. Platelet-rich plasma increases transforming growth factor-beta1 expression at graft-host interface following autologous osteochondral transplantation in a rabbit model. World J Orthop. 2015;6(11):961-969. Published 2015 Dec 18. doi:10.5312/wjo.v6.i11.961
Smyth NA, Haleem AM, Ross KA, et al. Platelet-Rich Plasma May Improve Osteochondral Donor Site Healing in a Rabbit Model. Cartilage. 2016;7(1):104-111. doi:10.1177/1947603515599190
Smyth NA, Ross KA, Haleem AM, et al. Platelet-Rich Plasma and Hyaluronic Acid Are Not Synergistic When Used as Biological Adjuncts with Autologous Osteochondral Transplantation. Cartilage. 2018;9(3):321-328. doi:10.1177/1947603517690022
Murawski CD, Kennedy JG. "Platelet-rich plasma releasate promotes differentiation of tendon stem cells into active tenocytes". Letter to the editor. Am J Sports Med. 2010;38(12):NP3. doi:10.1177/0363546510388769
Smyth NA, Murawski CD, Haleem AM, Hannon CP, Savage-Elliott I, Kennedy JG. Establishing proof of concept: Platelet-rich plasma and bone marrow aspirate concentrate may improve cartilage repair following surgical treatment for osteochondral lesions of the talus. World J Orthop. 2012;3(7):101-108. doi:10.5312/wjo.v3.i7.101
Articles:
Related Topics