Peroneal Tendon Dislocation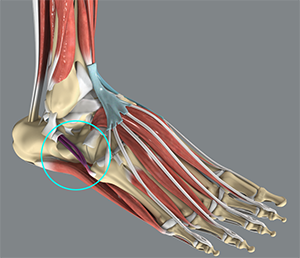 What is Peroneal Tendinitis and Dislocation?
This condition is often seen in patients with ankle instability but can present at any time with pain over the lateral or outer aspect of the leg associated with a snapping sensation.
Signs and Symptoms
Pain on the lateral side of the ankle often associated with chronic ankle instability.
What if the Condition is Left Untreated?
Will progress to degeneration and tearing of the tendon.
How is Peroneal Tendinitis and Dislocation Treated?
Traditional surgeries required open removal of bone with tightening of the tissue to prevent recurrent displacement of the tendons. NYU surgeons have been pioneers in using minimally invasive surgery (MIS Nano tendoscopic procedures that allow this surgery be performed through keyhole surgery in the office facilitating early return to sport.
Dr. Kennedy's Articles on Peroneal Tendon Dislocation
Functional outcomes after peroneal tendoscopy in the treatment of peroneal tendon disorders
The ESSKA-AFAS international consensus statement on peroneal tendon pathologies
Incidence of reoperation and wound dehiscence in patients treated for peroneal tendon dislocations: comparison between osteotomy versus soft tissue procedures